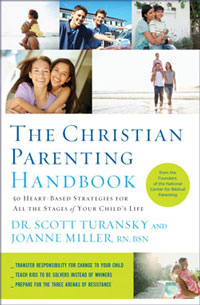 Books about parenting are a dime a dozen.  Christian books about parenting may only cost you a couple of cents a dozen.  There are tons and tons and tons of them out there.  Some are good and some will make you long to watch water drip from a faucet.  Some will change the way you think about parenting, and some will promise amazing results in only seven days with their time tested program.
What is lacking in the Christian Parenting genre is a book that not only addresses the why of parenting based on Christian principles but the how.  Missing that is….until now.  With the launch today of Dr. Scott Turansky and Joanne Miller's new book The Christian Parenting Handbook, a void is filled in helping parents to understand HOW to apply biblical principals to raising their kids.
This book is exactly what the title implies.  It is a handbook for parents on how to raise their kids in a way that addresses the heart issues your child faces throughout their young and adolescent years.  From the very first chapter which may catch you off guard – "Consistency Is Overrated" to the 50th chapter ("The Value of Grandparents"), this book will help you move from a behavioral control model of parenting to a model that addresses the core issues of the heart.